We are a team that helps entrepreneurs and companies reach their business goals through full marketing services and self-tested conversion-boosting methods. As a team, we are ready to tackle new challenges, to learn new methods, to affect industry standards, and to experiment with the newest, cutting-edge technologies, and to raise the bar in what is referred to as best online marketing practices. 
As professional marketers, we see potential opportunities and revenue where others see ideas. What does this mean? Tell us your vision, your idea, and your goals. We're here to find the strategy that can put your plan into motion through our services and systems and start working for you.
From all this you will receive new promotional channels for your products or services along with an automated system that works on autopilot, generating new sales, saving you time and money, so you can invest in new employees or other business activities.
Making your investment work for you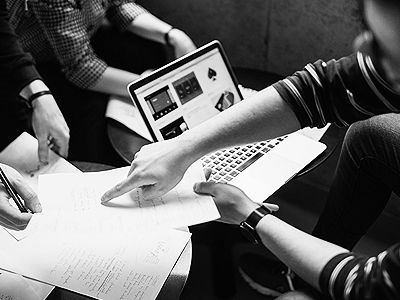 Every serious businessman knows the importance of great ROI and the systems we've created are carefully crafted to generate the biggest possible returns or your investment. 
The team at Default Design creates your ideal strategy, implements and tailors it to current industry trends and as such, assures that you get a functional system that generates profit with no further investments 24/7/365.

The members of our team hold different certificates in their respective areas of expertise. As certified Drip consultants, certified conversion marketing experts, economists, front-end developers, copywriters, communication experts, and certified designers, we understand the ways online marketing and brand development work, ensuring that your idea and/or business will flourish in the digital realm.
We're always ready to take on a new challenge. If you have an exciting idea or if you are ready to scale your business to the next level, your first step should be reaching out to us so we can take the next steps together.
If you want to keep up with what's happening in the online marketing industry, sign up for our newsletter.