If you have spent any time dealing with social media marketing in the last five years, you know that Instagram is a force to be reckoned with.
The small, picture-sharing app has grown to an immensely popular platform with over a billion users, and millions using the app every single day.
As a social media platform, Instagram made its first huge marketing step in 2013, when Facebook, its parent company opened it for advertising. After serving just as mostly a great platform for brand awareness, the day view of ads introduced a totally different landscape to the application with a staggering 200 million users visiting brand and business profiles every day.
Such metrics make Instagram a real marketing powerhouse with lots of opportunities to take advantage of. Such a popular platform can help brands stand out in many ways.
Having a strong presence on IG can help you:
Increase your following across the board (not just on Instagram)
Increase brand awareness
Build authority
Boost your conversion rate and overall traffic to your channels
The basics
The Instagram algorithm
Before we dive into the deep-end, it's only logical to go over the core features of the platform, so you can understand what makes it tick and how you can leverage said features.
First of all, the platform is based around an algorithm that shows users post based on their interactions, interests, and hashtags.
Knowing the base principles of this algorithm is key if you want to get the most out of Instagram and to grow your business.
As such, here's roughly how the algorithm works:
Interest: Instagram tends to show you posts based on the previous posts you've liked, meaning that in time it will push fairly similar content.
Engagement: Users will see more of your posts after they've engaged with them. As such, always try to keep your content engaging (more on that later)
Timeliness: Recent posts will always be shown first, so knowing your target audience's prime time for the app is crucial
Following vs. interaction: People will see more posts from those accounts that they actively interact with, not necessarily from every account they follow.
Usage and Frequency: People who spend a lot of time on Instagram and scroll constantly will find that their feed is more chronological, while those who spend less time with the app will mostly see a highlight of what the algorithm thinks they'd like.
Setting up your account
Now that you have a better understanding of how the algorithm works, it's time to take it one step further and set up your business account.
First of all, you should know that you have two different types of accounts.
Personal – This is the one that you would use for your own things, like posting pics of family, friends, hobbies, and such.
Business – This is the one we're currently after. This type of account is for companies that wish to use the app to build their brand, strengthen online presence, and ultimately, sell their products.
Create a business account, by signing up with your email (or with your Facebook account), then set up the account as one (by default, every new account is personal, you can switch it in settings "Switch to Business Account"). Lastly, add vital information for your business, like address, working hours, contacts, etc.
Goals and first steps
Creating a strategy, defining a goal
Business people who are well-acquainted with the digital world know that in order to drive results, they need an effective marketing strategy and that rule of thumb applies to Instagram as well.
That being said, will need to lay down the foundations of your marketing approach on the platform. Luckily, you have a wide variety of options letting you create an instantly inviting brand – especially if you play your cards right.
With Instagram, you can:
Showcase the products you sell along with the services you provide
Strengthen your brand's authority
Build awareness
Create a huge following with regular customers and brand ambassadors
Tell your story – highly important!
You can either choose to pick only one goal or try to blend everything perfectly in your strategy. Professional marketers can help you come up with an approach that focuses on one main goal while improving the others as well along the line. If you want to know more about these strategies, click here.
Once your goals are picked, you should focus and keep working towards them. That being said, tell your employees about what you wish to accomplish and the results you want to see. It's essential that all of you work towards those common goals and focus on the path that leads to results.
If you are working with an agency, let them know about your goals too. Social media specialists, copywriters, and experienced digital marketers can help you with every aspect of your strategy, may that be increasing brand awareness or selling products.
A good word of advice, stay patient and calm, and be realistic. Growing a successful brand through Instagram won't happen overnight. Give yourself time and keep focusing on your goals.
Your feed, posts, and captions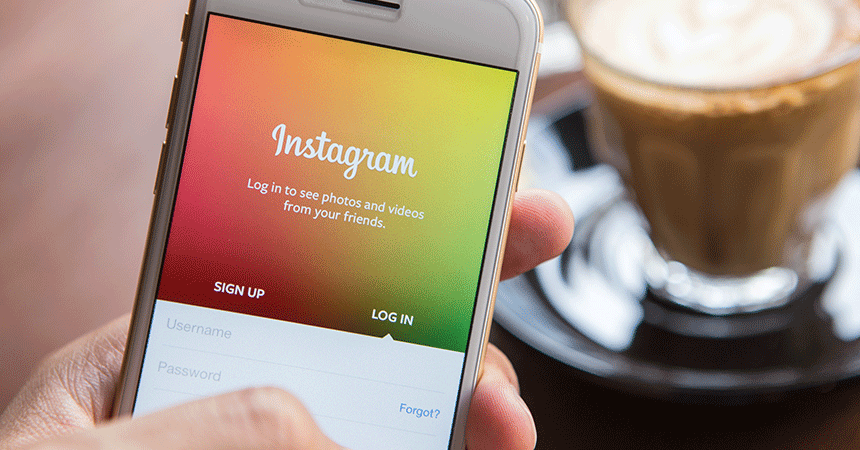 Instagram has been mainly used to post pictures and still is, however, with new features and changing trends, more and more brands choose to embrace everything the platform allows, from GIFs to short videos and to even longer-form video content through IGTV.
No matter which kind of content you end up using the most, it should always align with your goals determined in your marketing strategy.
Also, you should look at your business account and IG feed in terms of your company and brand. The feed is the face of your brand, reflecting what you do, how you represent your statement, how you tell your story, and ultimately, who you are. That is why creating posts should be taken seriously.
As such, you should ultimately focus on creating content with all 3 key elements included:
Visual: Can be an image, image-carousel, video, and video-carousel
Caption: The text under the post
Hashtags: Placed either in the caption or in the comments, hashtags help users filter what they see, also, with the right hashtags, you can be more recognizable and more easily reachable.
When speaking about your IG presence generally, know that you will need a strategic approach to posting and how those posts will look like.
Focus on the following things:
Make your posts "Evergreen" – Either photos or videos, the posts in your feed should be somewhat timeless, as in have to convey a message that is more or less always consistent with your brand or at least, relatable to the nature of your business. Sure, you can experiment and have fun with your visuals, captions and hashtags, but keep in mind, your posts should represent your brand, company vision, and mission.
Posts should be optimized and curated – Every post should have a caption and hashtags either under the post or in the comments. Do your research, see what are the trending things in your industry. Research the imagery most popular related to your industry, along with trending hashtags. Research locations, see where you can get the best reach. Research your target audience's habits, post when they are the most active. Also, create posts in advance and schedule them through specific apps to make sure you are consistent. Aim for at least two posts per week and use IG insights to see if you need to tailor your schedule.
Engage your audience – Even though IG is a pretty limited platform in comparison to Facebook, brands can still get creative and engage their followers. Create posts that motivate, inspire, entertain, educate, or inform your followers.
At the same time, be engaging. Ask questions in your captions, visuals, videos. Ask them to share their thoughts in the comments, or to reach out to you. Run short IG sales specials, get them hyped up to close a few extra sales. Plan out a little game where the winner can either get something for free or can purchase at a discount.
These things might take a little extra work and some sacrifice, but the more people engage with you, the more they will remember you.
Never skip quality and remain recognizable – Always make sure to create a post that makes your brand recognizable. You are generating awareness and your reputation with every piece of content you post on your channel, so make sure that they all reflect your brand and convey your message. That being said, always make sure to post quality content. If you don't have anything to post that's up to par with your standards, you are better off not posting it.
Also, since Instagram is a highly visual medium, make sure that the pictures and videos you are posting are high-quality and up to your brand's standards. Aim for photos that are higher resolution and that show your product in its entirety or does it justice, for example.
Don't get us wrong, you don't have to do a professional photo shoot each and every time, but the pics you post should always have a certain amount of quality to them.
Set your tone and character – Create a tone and atmosphere on Instagram that resonates well with your brand in real life. If you are a serious business, you'll want to get through as one – create informational posts with captions written in a professional tone, along with pics and videos that are up to par with the caption. On the other hand, if you are a more laid-back business, make sure to let people know – you can use memes, funny gifs, funny captions. Just make sure that they are all intact with your brand's character, and they are in good taste.
Tell your story – We've entered the digital age a long time ago, and brands no longer hold "exquisite" or "exclusive" information. Customers can research anything, anytime. Companies now, more than ever, have to rely on their storytelling skills, to make sure that people engage with them and make a purchase.
That being said, you need to tell your brand's story. Mention your vision and mission. How do you provide added value? What made you become an entrepreneur? How does your business help others?
Create behind the scenes posts, showing your employees, or the creation of your products. Embrace you and your coworker's back stories. Create throwback posts. Humanize your products and services by showcasing them in an everyday context.
In short, tell your story, create a bond with your followers.
If you need help with creating your story, we can help you if you click here.
Posting and tracking
Post types, captions, and hashtags
When it comes to visuals, there are generally four different types you can choose from.
Graphics
Tips, memes, questions, games, lists, photos of digital services, products, graphs, testimonials, and so on.
Whenever you are using graphics, especially memes, make sure that they are always relatable both to your brand and your audience. Keep everything in good taste and research trending imagery.
Photos
Behind-the-scenes pics, product photos, lifestyle photos, pictures of your staff, you, etc.
These can be great for telling your story. Quality pictures can be powerful tools in your brand awareness campaigns and can present your products and your company in the best possible light.
Video
Behind-the-scene videos, product description, short interviews, funny videos, etc
These can be highly engaging if used right. Shorter videos (under 1 min) can be posted in your feed, longer videos will appear in your channel's IGTV section.
Carousels
Up to 10 swipeable images or videos
Great for showcasing products, storytelling, education, or for informational purposes.
Captions
In almost all cases, you will want to add captions to your posts, and in general, there are a few basic elements to every caption that you should know how to use and when to use.
The copy
Based on length, you can use different types of copy.
Short copies with less than two sentences are great for questions, memes, quotes, etc.
Short paragraphs can be used for the purposes mentioned above, plus for short explanations.
Long-form copies are ideal for in-depth explanation, storytelling, introducing new concepts, ideas, and so on. You can use bullet-points here that can add more structure to your caption and give a better overall picture to your audiences.
Whenever you can, use a clear call-to-action that aligns with your goals.
Hashtags
As stated already, hashtags help optimize your posts and help your audience find you.
As such, here are a few great tips when hashtagging:
Set the minimum of hashtags around 9 and the maximum around 30
Research your industry, use relevant, trending, long-tail hashtags
Location-based hashtags should be high on your priority list, especially if you are operating locally
Research your competitor's hashtags
Tracking metrics
IG's Insights tracks the metrics of your account, and you can also access them from FB's Creator Studio, or by using any other 3rd party metric tool.
Generally speaking, metrics can give you a better idea of how well your posts are performing in certain areas.
When you are looking at brand awareness, post saves, likes, comments, and shares are important to keep an eye on.
For engagement, link shortener and website clicks can be valuable.
For tracking your conversions from IG, you'll want to keep on eye on metrics such as impressions, reach, profile visits, and product opens.
As stated above, your metrics can help you give you more insight into how your account is performing. By observing trends with your posts, you can adjust your strategy to get better reach, more engagement, to build a bigger following or to boost your conversions. Also, you can observe how new types of content perform on your account among your audience.
To never lose track of your objectives, click on the image bellow and download the 5 best practices to boost your presence on IG.
In conclusion
All in all, a well-rounded and sought-out strategy can help you a great deal in getting the most out of Instagram. And while good strategies are the bread and butter of every great brand awareness and marketing effort on the internet, you still have to be there for your prospects and customers. Check your comments, tagged photos, and DMs regularly. Comment on your followers' posts, reach out, mingle. Humanizing your brand is an essential part of telling your story, remember that.
On the other hand, if you want a great strategy that will take the weight off of your shoulders, feel free to give us a call because we can help you.
Share on your favorite social media